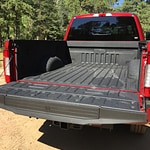 It is always helpful to have a truck that you can rely on to get you where you need to go. That is definitely what you will find with the Ford Super Duty truck. You will be getting a popular heavy-duty truck that can go with you on the job, wherever that may be.
You will also find several productivity features that are quite useful. One of them is the amount of storage available in the rear of the cab. This will allow you to safely put away your tools without interfering with your passenger's legroom. There is even a locked compartment underneath the seat.
You may want to take a trailer with you from time to time, perhaps when it is time to go boating for the weekend. The Trailer Reverse Guidance system will help you back it up to just the right position. Give the Super Duty truck a test drive the next time you are at Lance Cunningham Ford.