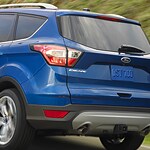 The popular Ford Escape is a good compact SUV. Providing enough power for almost all driving situations, the Escape rides smoothly and handles well. It is equipped with a roomy interior and comes with several driver assistance features. Features that let you hit the road and explore with confidence.
The Escape's all-wheel-drive disconnect provides you with the advantage of all-wheel-drive traction when you need it and disconnects it when you don't. The feature seamlessly switches between two-wheel and all-wheel drive in a fraction of a second, using state-of-the-art technology to sift through information such as road conditions, vehicle speed, and wheel slippage. This reduces drag and improves fuel consumption. Another energy-saving component is the Escape's auto stop-start feature that allows your car to stop its engine when it would otherwise just sit idling.
Stop by Lance Cunningham Ford and test-drive an energy-saving Ford Escape today. See for yourself how an Escape saves energy and makes driving pleasurable.