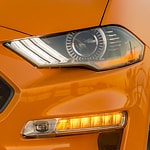 If you've ever longed for the rumble of a powerhouse engine, the Ford Mustang has you covered. This popular sports car is available with five remarkable options, each designed to bring the thrill back into driving.
The base-level Mustang comes standard with the 2.3L EcoBoost engine. With 310 horsepower and 350 lb-ft of torque under your feet, you'll feel the power right off the bat. Plus, when you step on the accelerator, the telltale Mustang roar will send chills down your spine.
In the middle of the pack, the BULLIT 5.0L Ti-VCT V8 engine ramps it up to 480 horsepower for extra excitement. Need more? You can't go wrong with the hair-raising 700 horsepower and 625 lb-ft of torque that comes with the top-of-the-line 5.2L supercharged cross-plane crank V8 engine you'll find in the Mustang Shelby GT500. Try out all of the options during a test drive of the Mustang in Knoxville at Lance Cunningham Ford.